Turl Street Kitchen
I'm a big fan of Oxford, but I have a slight problem when I go there in terms of reviewing restaurants. The issue is that my friend Kathryn, with whom I stay when in town, is such a good cook that culinary highlights from visits invariably originate from her fair hand.
This was once again the case with excellent breakfast corn fritters, outstanding roast carrots and an amazing tomato salad accompanying burrata the particular standouts, this time.
We ventured out on the Saturday night along with Kathryn's husband Rene. Regular readers will recall I was in Gran Canaria back in April for their wedding. Much merriment was had.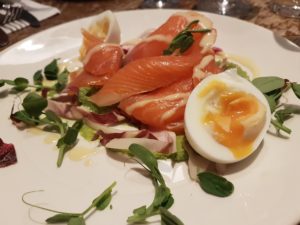 After good cocktails at the Duke of Cambridge, we headed for dinner at the Turl Street Kitchen.
Run as a social enterprise, the restaurant forms part of the Oxford Hub, reinvesting profits in social change projects across the city. The menu showcases local sourcing and produce, as you might expect.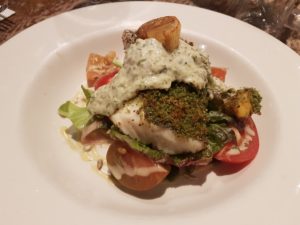 After opening with some crisp fino, Rene started with the ham hock and chicken terrine while I opted for the smoked salmon mainly on the basis of the accompanying soft boiled egg and pea hummus.
These were good quality starters with good depth of flavour and balance to the dishes.
Main courses – plaice for Kathryn, pork belly for Rene, hake for me – were again to a very pleasing standard. The herb crumb on my nicely cooked piece of white fish was notably good.
We rounded things out with lemon posset, Eton mess and the nicely ambient cheese, which we accompanied with sweet dessert wines. Coffees were also of very good restaurant quality.
So overall, Turl Street Kitchen served us a very enjoyable dinner. I liked the style and ethos of the place, and service was a strength throughout. I'd be happy to return and would recommend it to you next time you're in these parts.
Scores
Blythe scores Turl Street Kitchen
4/5 for food
3.5/5 for presentation
4/5 for service
4/5 for setting
giving an overall 15.5/20
Today's questers were: Kathryn, Rene, Blythe
We ate: ham hock terrine, smoked salmon, plaice, pork belly, hake, greens, lemon posset, Eton mess, cheese
We drank: sherry, mango martini, white wine, dessert wine, water, coffees
We wore: light, summery dresses
Total bill: £153
Address: 16-17 Turl Street, Oxford OX1 3DH