Espresso Quest
Following on from the Espresso 100, here's a summary, very much along the lines of Soupquest, of the best espressos we've sampled in Edinburgh. This will be regularly updated, as new and intriguing espressos are consumed.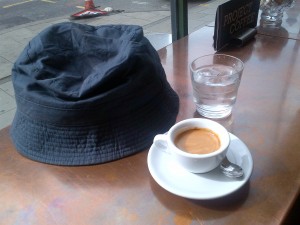 Exceptional
Artisan Roast – Artisan Roast
The igniting spark behind the explosion of Edinburgh's coffee scene, Artisan Roast serves outstandingly good espresso from branches on Broughton Street and Bruntsfield Place.
Brew Lab – Union Hand Roasted
The arbiters of Edinburgh coffee cool, Brew Lab's box of tricks extends well beyond mere espresso production, with all manner of gadgets and whatnots. A coffee geek's paradise.
Cairngorm Coffee – Various
Another gem of the New Town, Cairngorm had a bit of shaky start, but a switch to Mr Eion, then to a regularly rotating mix of excellence (now including some of their own roasting) has seen their coffee improve to match their excellent cheese toasties.
Castello Coffee – Allpress
Our number one place for espresso in the city, Castello serves wonderfully rich Allpress, to an exceptional standard. It's a lovely place for a lunchtime visit, too.
Century General Store – Steampunk/Assembly/Williams & Johnson
A magnificent little oasis of calm, Century General Store serves excellent espresso.
The Counter – Mr Eion
Another outstanding bespoke blend from Mr Eion served from this converted police box in Morningside, which has now expanded to two further locations – Tollcross and just outside the Usher Hall.
Cult Espresso – Round Hill
Absolutely outstanding Round Hill espresso served up in this new and rather wonderful place.
Filament – Hasbean
An absoultely first-rate purveyor of an ever-changing range of coffees, Filament is now safely installed in permanent premises on Clerk Street, after a brief pop-up on Victoria Street in 2014.
Fortitude Coffee – Fortitude
Fresh, smart cafe showcasing their own espresso and retailing an impressive range of beans, Fortitude is at the pinnacle of the Edinburgh coffee scene.
Hula – Artisan Roast
Our number one café in the city, with its outstanding breakfast, lunch, smoothies and coffee options, Hula is the sunshine of our life.
Little Green Van – Artisan Roast
The Little Green Van served me a belter of a ristretto in the lovely surroundings of Portobello promenade.
Lovecrumbs – Artisan Roast
Serving Artisan Roast (both Janszoon and a recent guest single origin) to a very high standard, our favourite cake shop is a must-visit.
Lowdown – Koppi
An outstanding basement cafe on George Street serving a stellar range of coffee, with marvellous Koppi to the fore.
Machina Espresso – Machina
New to Tollcross, Machina Espresso showcases their own excellent espresso, served in really smart, fresh premises.
Noir – Horsham
Noir is a really fine coffee shop in the West End. And it's always satisfying to see an independent coffee shop take over where once there was a Starbucks.
Papii – Artisan Roast
Providing Hanover Street with coffee excellence, Papii is another great exponent of the Artisan Roast espresso, from their quirky little café premises. They previously had an outstanding Ethiopian yirgacheffe from New Town Coffee on as a guest.
Pekoe Tea – Dear Green
One of Edinburgh's finest tea purveyors, Pekoe are one of the few places you'll find Glasgow's excellent Dear Green espresso in our fair city. Well worth a visit.
Printworks – Monmouth
A first-class Leith café, Printworks serves delicious Monmouth espresso, coupled with a lovely range of lunchtime classics, from light and airy premises.
Project Coffee – Square Mile
Offering Bruntsfield patrons another excellent coffee option, Project Coffee's power-packed Squaremile espresso is something to savour.
Steampunk – Steampunk
A regular at Stockbridge's Sunday market, with their little van, Steampunk is based in North Berwick, and produces really good espresso.
Strumpets – Mr Eion
A lovely little coffee and cake shop on William Street, Strumpets serves really punchy Mr Eion espressos in light and dark roast blends.
Twelve Triangles – Steampunk
Although they change between various blends and styles, the folks at Twelve Triangles seem to have settled upon high quality Steampunk as their go-to bean. All coffees are served to a splendid standard.
Wellington Coffee – Square Mile
The Edinburgh masters of the flat white, Wellington's espresso is really pleasing, too, and their freshly made scones are an absolute delight. I sampled a really good Caravan market blend and a lovely New Town autumn blend here, too, so watch out for their regularly changing guest espressos.
The Bearded Barista – Steampunk
Highly accomplished work from this fine purveyor of Steampunk espresso.
Blackwood's – Square Mile
Morningside's finest, Blackwood's is a friendly and welcoming corner café, serving high quality Square Mile espresso.
Cafe Colpamia – Mr Eion
Locally roasted in the Italian style, the coffee at Colpamia will appeal to adherents of both classic and "third wave" tastes, so is a rare thing indeed.
Chapter One – Dear Green
Serving very good Dear Green coffee, Chapter One brings much needed quality coffee to Dalry.
Kilimanjaro – Square Mile
A popular purveyor of Squaremile espresso, Kilimanjaro is a southside favourite. I hear great things about their breakfast, so will need to sample their food, soon.
Leo's Beanery – Hands On
A lovely little New Town café, Leo's Beanery is fine exponent of Hands On espresso, so should be added to your list.
The Milkman – Dear Green
With one of the most stylish bars in the city, The Milkman is a fine pourer of Dear Green.
Press – Square Mile
Another of the Square Mile brigade, Press serves a high-quality espresso. It's a bright blend, which will enliven your palette.
Rocket – Artisan Roast
Serving very good, very inexpensive Artisan Roast espresso, Rocket is a great stop for a breakfast coffee.
Ronde – Williams & Johnson
A wonderful cafe/bike shop, Ronde serves very good espresso. Definitely worth a visit.
Urban Angel – Caravan
Urban Angel's coffee is on the upgrade, following a move from Ozone to Alchemy to Caravan. Their espresso is consistently served to a very good standard.