FAQs
Through our various social media channels, we get a steady stream of questions and requests for particular recommendations and tips.
Sometimes our annual Guide to Edinburgh has the answers, but we've started to build up a number of things that aren't quite covered by it, so we thought we'd add this new page, which summarises some of our more frequently asked questions.
Pre-Theatre Dining
We've devoted an entire separate page to this!
I'm in Edinburgh for one day. Where do I eat?
My instinct is that if you're in town for a short time, timings could get away from you, so you would ideally want a place that's open flexible hours and will likely be able to accommodate walk-ins. Accordingly, I'd send you to The Dogs. The seasonal menu is full of outstanding options that give an excellent showcase to our local larder.
Speaking of larders, our recommended option for more informal, cafe dining would be the Edinburgh Larder, as it is just wonderful and delivers the type of consistent excellence guaranteed to impress.
For a quick ale before perhaps jumping on the train at Waverley, I'd send people to the Guildford Arms, as it can be relied upon to have a great selection of local beers and has the friendliest pub staff in the city.
Cocktails, please
We have long had an ambition to write a cocktail guide to Edinburgh, but haven't got round to it, quite yet. It's logistically quite a complex undertaking, not least because it lends itself better to a collective effort, rather than a slow solo spiral into negroni hell.
For now, you can't go wrong with Lucky Liquor Co and the Last Word Saloon. While Bramble gets most of the attention (and the attendant crowds), its two sister bars are firm favourites.
The Bon Vivant and Devil's Advocate are both good, too.
If you're looking for an "impact" cocktail location, Peacock Alley at the Caledonian is beautiful. However, the cocktails are a good bit pricier than other places.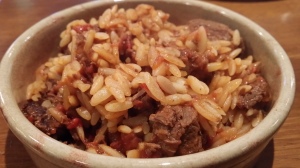 Something Cheap and Cheerful
While there are some great lunchtime deals for very smart nosh, such as at Michael Neave, I take cheap and cheerful to imply an element of abundance for low cost. Along those lines, lunchtime deals at Beirut and Nawroz are impressive. Tapame's two tapas dishes for £5 is also very appealing.
Ting Thai Caravan is the current champ of cheap and cheerful, but tends to be horrifically busy. It's worth queueing, though.
Street food in its many forms tends to also hit this brief. We have a rolling guide to the best exponents, here.
A Pub for Grub and Beer
Somewhat frustratingly, a large portion of Edinburgh pubs tend to fall into two camps, food wise: places that are doing fairly generic pub lunches, relying upon re-heats and the like; and those that are trying to do "posh" pub grub, so dishes like risotto and pork belly, rather than pies and stews.
There are some notable ones that break the mould. The Bow Bar has an excellent selection of beer and does delicious pies at lunchtime. The Salisbury Arms is very good, but a little out of the way. Overall, I think the best options for this type of thing are in Leith, with both Nobles and the Compass excellent exponents, and the Roseleaf a pretty reliable choice, too.
A Taste of Scotland
People often ask the inevitable "where can I get haggis?" question. While it appears on many a menu, a number of places tend to serve it as fritters, pakora or croquettes, rather than in its "with neeps and tatties" form, while many of the places that serve it traditionally aren't that great.
Stac Polly, although plagued by less than brilliant service, is about the best restaurant version you can reliably find. I hear good things about the haggis at Arcade Bar. However, I'm a haggis for breakfast sort of chap, so would first and foremost point you somewhere like the Coffee Mill or Nikki's for a haggis roll.
If your "taste of Scotland" tastes extend beyond the haggis, there are many restaurants showcasing Scottish local produce. The Ship on the Shore is outstanding for seafood, Blackwood's at the Nira Caledonia is excellent for steak, and there are many good French/Scottish "Auld Alliance" crossover places, such as Cafe St Honore, Les Escargots Blanc et Bleu and La Garrigue.
Burgers
Our taste in burgers simply doesn't seem to match with the prevailing wisdom. For example, I thought Burger. on Fountainbridge was just about the naffest restaurant experience of 2014. The chips were awful and the burger thoroughly mediocre. Many people are ardent fans, though.
During the day, BBL is the place for burgers. A little cafe on the Pleasance, the quality of their burgers is just excellent. They're only open until 3pm, though, so at other times we'd recommend the Greenmantle or Nobles for a great burger in a pub setting.
The Broughton Deli does the best cafe burger. Bread Meats Bread is really good. For a posher choice, Twenty Princes Street is very good.
Sweet treats
We're not blessed/cursed with much of a sweet-tooth, so we generally rely upon Cake Quest to keep us on the straight and narrow with that aspect.
We have been to Mary's Milk Bar a few times and it's just lovely, and Lovecrumbs is superb.
Breakfast
For healthy and reviving breakfast, it has to be Hula; the place has been my saviour on so many occasions. I really like the porridge and coffee at Coletti & Co, too.
Rocket, in Morningside, does an outstanding mushrooms on toast dish that's well worth trying.
For breakfast rolls, Maialino is the pick of the crop.
Brunchquest?
I don't really get brunch and I'm not sure Edinburgh is particularly well-served in terms of options. The massive buffet brunches at Malmaison and Hotel du Vin simply don't appeal and I've heard mixed things.
I associate brunch with egg breakfasts, mainly. Patisserie Maxime does by far the best best omelettes we've found, but we haven't found a reliable place for poached egg dishes. People rave about Urban Angel, but on the time we visited they mangled eggs Benedict entirely. People love Cafe Blue Bear, but it didn't quite hit the heights for us.
MJ tells me that the brunch at Mimi's Bakehouse is very good and I really like Porto & Fi. But mainly I'd point you in the direction of the good breakfast places, above. Oh, and if you need the emergency intervention of a brunchtime Bloody Mary, Three Birds is the place.
Where are we currently to be found, most often?
I've already mentioned Lucky Liquor, which is the bar where I'm most likely to be found. In terms of cafes, I spend a lot of time in Pep & Fodder, given its proximity to my office, and I'm regularly in and out of Castello, Hula, Fortitude and Strumpets. Restaurant wise, I've been in Kezban a few times, lately, and Reekie's, too, so they are probably my current dining spots of choice. I've spent a lot of time at The Apiary, too.
MJ is, as always, to be found in the Edinburgh Larder on a fairly regular basis.