Pre-Theatre Dining
Aside from the month of August, when pretty much every eatery in the city is near to some theatrical performance, we have four main areas that have major theatres that prompt nearby restaurants to make efforts to cater for the pre- (and in some cases post-) theatre diner. In no particular order, they are:
Playhouse
The Playhouse is a big barn of a theatre that showcases a range of different stuff. It's frequently the home to major touring musical theatre productions. Accordingly, it is very well served in terms of dining options, many of which offer good value and swift service.
The place to avoid is the Omni Centre, where Tony Macaroni is grim and the other places aren't great. Other than that, there aren't too many other booby trap spots nearby.
Our strongest recommendations would be for L'Escargot Bleu, Taste of Italy, Nom de Plume (good for veggie and vegan) and Cafe Marlayne.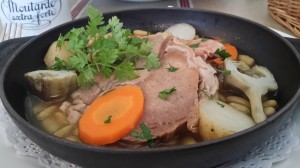 If you're simply looking for a pre-theatre drink, Kin is excellent for cocktails, and Treacle is pretty decent. Broughton Street is home to many good bars for beers and Pickles is great for wine and nibbles, too.
Festival Theatre
The Festival Theatre has a diverse programme of musical and theatrical performances.
There's the excellent Field just nearby, which offers one of the best pre-theatre menus in the city.
Fans of Pan-Asian cuisine are very well served as Beirut, Lian Pu and Kweilin are all close at hand. In addition, there are a number of low-cost Indian options, such as Kebab Mahal and 10-to-10 in Delhi, although they may be better suited to post-theatre dining.
For drinks, Paradise Palms is not far away and has a good cocktail menu. Their food, by Lucky Pig, is also very good. For beer lovers, the Potting Shed and Usher's are just around the corner, while 56 North has a peerless selection of gins.
Traverse/Lyceum/Usher Hall
Just off Lothian Road, we are blessed with an excellent collection of arts venues. The treasured Traverse is a shining jewel of contemporary theatre. The Lyceum is a wonderful place, too, and the fantastically austere Usher Hall is a great music venue.
Some of the dining options in this neck of the woods aren't great.
Fortunately, the Traverse has an excellent bar which does very good food and the Lyceum has Zucca adjoining it, which can be very good.
Galvin's Brasserie de Luxe is close at hand, so would be our top choice. The excellent Kanpai is even closer, so fans of Japanese food should head there. Spirit of Thai and Jasmine are good Thai and Chinese options, respectively.
L'Escargot Blanc and Forage & Chatter are just a few minutes down the road, so are both worthy of consideration. Patisserie Maxime is open until around 7pm, usually, so would work out as a good coffee and cake pre-theatre option.
One Square is an excellent spot for pre-theatre drinks as they have an excellent gin selection. It's more of a post-theatre dining place, I'd reckon, and caters well for veggies and vegans.
For beer aficionados, the Hanging Bat has an excellent selection and the Blue Blazer is very good, too.
King's
The King's Theatre isn't too far up the road from the Traverse/Lyceum/Usher Hall cluster, so some of the same choices apply for it, too. It's home to Edinburgh's premier panto, as well as a number of touring theatre productions; think Nigel Havers and Liza Goddard.
There are two great Japanese options in the shape of Sakura Tree and Harajuku Kitchen, so those are both recommended. Everyone raves about Tuk Tuk, but it was totally mediocre on our recent visit.
Three Birds in Bruntsfield is just about close enough and is definitely worth a look, as is LeftField.
For drinks, Cloisters is excellent and Bennet's is an absolute King's Theatre staple; you can sometimes be lucky enough to meet the pit orchestra in there at half time.