Live Seafood
I had a mountain of fun at my brother's wedding banquet at Seawoo, last year, so was very pleased when Frances suggested we might visit a place that sounded along similar lines on my second evening in Manchester.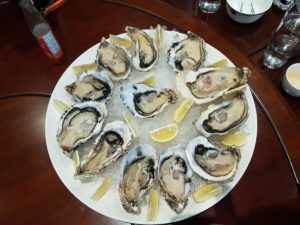 We were joined by a whole gaggle of pals, some of whom had visited Live Seafood – for that was the place's highly descriptive name – before, while others were like me visiting for the first time.
I would be hard pressed to articulate exactly where the place is in Manchester, but it felt in between neighbourhoods. The premises are an old pub that has been radically altered inside to encompass an extensive fishmonger plus several dining rooms for parties of around a dozen.
It was generally agreed that we wanted to eat an enormous amount of tasty seafood, so that was ordered with a bit of token rice on the side.
The parade began with the most massive oysters I've ever seen or eaten. They were a good three bite chew. They were, if anything, too big.
Next were razor clams and scallops served with glass noodles and garlic topping. The consensus was that the scallops were slightly overcooked but the spoots were warmly received.
Next we had truly epic prawns. Their was much sucking of prawn brains around the table but I stuck mainly to the extremely sweet and juicy tails. They were splendid.
Next was an excellent squid salad and a massive plate of eel. These were both memorably good.
We then had lightly crisp fried whole fish, blue crab in ginger, and a monster plate of crispy tofu.
We'd had a fair amount of excellent wine with their panoply of seafood wonders, so there was much joy at delights we'd sampled.
So overall, it was great to have such a fantastic Chinese seafood banquet at Live Seafood. This time, I didn't sing any Britney Spears' records on karaoke but this otherwise compared very favourably with my trip to Seawoo. Give it a visit next time you fancy a Chinese feast in Manchester.
Scores
Blythe scores Live Seafood
4.5/5 for food
4/5 for presentation
3.5/5 for setting
4/5 for service
giving an overall 16/20
Today's questers were: Heli, Frances, Valaira, Darren, Gab, Harry, Iain, Tom, Blythe
We ate: all the recently dead things, rice
We drank: wine, wine, wine, wine, wine, wine, wine
We wore: traditional Chinese robes
Total bill: £391
Address: 163 Ashton Old Road, Manchester M11 3WU