DDK Cafe
After an onslaught of restaurant excellence in London, I was in need of a change of pace. With many rich lunches having been taken, I'd been eschewing breakfast for a few days and I was starting to miss an eggy start to the day.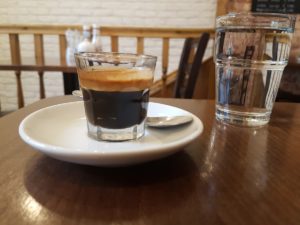 Accordingly, I headed along the road after checking out of my rather mediocre hotel and quickly ran into DDK Cafe on Warwick Way.
The rear garden seating seemed to have a strong pull for people meaning the entry level seating area was fairly sparsely populated. I took up station there and quickly settled upon the full English breakfast not least because it came with a coffee included for the princely sum of £7.80.
The espresso was fine without particularly registering, with the main event breakfast dish soon with me looking very neat indeed.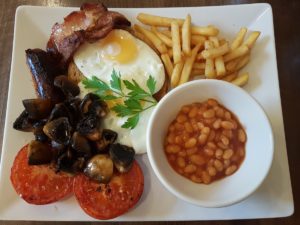 As with most fry-ups it had strengths and weaknesses. The bacon was a bit of a non-event but the fried eggs were spot on and the sausage surprisingly good.
It came with chips which was slightly unusual, but they were pretty good. The grilled tomatoes were good, the mushrooms less so, and the beans were beans.
So overall, DDK served me a good, well-priced breakfast that I enjoyed. It's a friendly little spot that I probably won't have occasion to revisit, but if you find yourself staying in one of Pimlico's many, well-situated hotels, do feel free to give it a look.
Scores
Blythe scores DDK
3.5/5 for food
4/5 for presentation
3.5/5 for setting
3.5/5 for service
giving an overall 14.5/20
I ate: full English breakfast
I drank: espresso, water
I wore: mainly white
Total bill: £7.80
Address: 39 Warwick Way, Pimlico, London SW1V 1QS