The Little Chartroom
It seems to be the way that whenever you leave a neighbourhood, a bunch of good stuff opens up just in time to miss you. With the arrival of Little Fitzroy, the upcoming Nauticus, and today's lunch venue The Little Chartroom I've clearly chosen a particularly unfortunate time to leave Leith.
Taking over where Bielak & Crolla briefly traded, The Little Chartroom brings together a husband and wife team running front of house and kitchen, respectively, along with a familiar chef face formerly of The Fat Pony.
I was joined on this enterprise by regular guest quester Freya.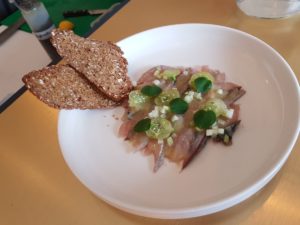 We dined at the bar just as you enter the premises. This is a favourite with me as you tend to get an immersive insight into how things operate as well as seeing all the dishes being prepped.
The menu is along the lines of a three-three-three split of starters-mains-desserts. This can be a tough approach to get right, but virtually all dishes looked worthy of attention so we quickly settled upon sharing two starters, two mains and a cheese.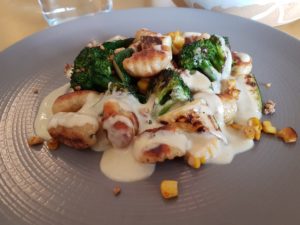 The starters delivered the simple elegance of a tomato salad. Dots of whipped feta brought bursts of flavour and a watermelon broth offered refined coolness. A tapenade-topped cracker was splendid.
The other dish was raw mackerel served classically with seasonal gooseberries and cucumber. Again, this was accomplished stuff.
For mains we had lamb rump with charred hispi and anchovies. The cabbage was memorably good.
The ricotta and parmesan gnudi to follow was the winning dish for Freya, with a particularly pleasing combination of broccoli and sweetcorn.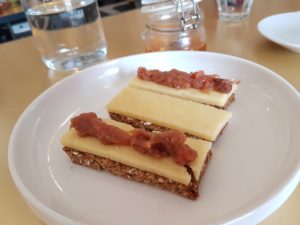 We accompanied this with a couple of well-considered wines which made for a gloriously relaxed and enjoyable lunch.
So overall, The Little Chartroom is doing very good work and represents a very welcome addition to the neighbourhood. Along with near neighbour The Walnut it forms a formidable one-two punch of high quality dining. It will be interesting to see how the menu changes and develops over time. Make sure to visit at your earliest convenient opportunity.
Scores
Blythe scores The Little Chartroom
4/5 for food
4.5/5 for presentation
4/5 for setting
4/5 for service
giving an overall 16.5/20
Today's questers were: Freya, Blythe
We ate: mackerel and gooseberry, tomato salad, lamb rump, gnudi
We drank: wines
We wore: almost matching pink and blue
Total bill: £101.50
Address: 30-31 Albert Place, Edinburgh EH7 5HN