25 Things to Eat and Drink in Edinburgh this August
It's Festival time once again in our fair city. I'm off on travels this year, but if I happened to be sticking around this is what – in no particular order – I'd be eating and drinking.
1. Salt beef bagel – Ough! Bagels
Ough! are trading from George Square, this August, serving up outstanding bagels with classic fillings. These should provide the ideal snack on the go in between shows.
2. Huevos rancheros – Castello Bruntsfield
Escape the excesses of the Fringe venues for a trip to Bruntsfield for excellent coffee and egg dishes from the splendid Castello.
3. Salted grapefruit soda – Lucky Liquor Co
Developed in partnership with Bon Accord, the wizards of the Bramble/Lucky Liquor/Last Word Saloon team have come up with an outstanding soda that pairs as well with their own Seawolf rum as it does with Campari for some great summer bevvies.
4. Carnivore – Reuben
Carnivore offers a top quality menu of meaty delights and bourbon-forward cocktails. On the Cowgate, it's sure to serve Festival revellers well.
5. White onion and beer soup with parmesan crisp – Field
Well-positioned in between some of the main Fringe venues, Field is a classy cow-themed restaurant showcasing excellent local produce. This soup is a particularly good one, so make sure to visit when a high quality dining experience is what's needed.
6. Roasted red pepper, whipped aubergine and goat's cheese sandwich – Strumpets
The Strumpets team have recently added a carefully curated range of sandwiches to their already excellent selection of cakes, soups and coffees. This lovely cafe on William Street is an oasis of calm with the warmest of welcomes.
7. Custodian's Fizz – The Register Club
Offering a splendidly decadent getaway in the heart of the city, take yourself to the majesty of the Register Club for an elegant cocktail and light bite. Try the Custodian's Fizz, their signature cocktail, for a moment of bliss in the midst of Festival chaos.
8. BLT burger – Jones & Son at Century General Store
This Festival, the burger excellence of Jones & Son extends their current residency at Century General Store with the plan to open Wednesday to Sunday throughout August. Everything they do is exceptionally good with the BLT burger an enduring favourite.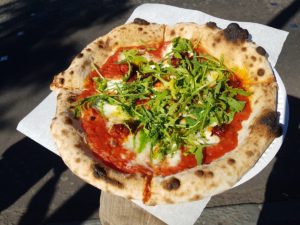 9. Shortbread – Pinnies & Poppyseeds
Pinnies & Poppyseeds offers the single best aroma in the city. The glorious smell is the buttery goodness of freshly baking shortbread. Go, bask in the glory, and eat some of the finest bsicuits you'll ever taste.
10. Pina Colada – Kin
Kin is a fine purveyor of cocktails from a smart basement bar just off Broughton Street. They have a lot of fun riffing on classics with their latest twist on the pina colada proving a very popular.
11. Toasted khorasan bread with kimchi – Little Fitzroy
Little Fitzroy is an excellent new coffee shop on Easter Road. They've recently added a brunch selection from which the khorsan bread with kimchi is a particular favourite.
12. To the Moon and Back pizza – Wanderers Kneaded
Wanderers Kneaded is a splendid new pizza truck, currently trading from the Meadows plus Portobello promenade on Sundays, as well as Saturday appearances at street food markets. Their To the Moon and Back brings together nduja, dolcelatte and rocket for a power-packed pie.
13. Coffee – Williams & Johnson at Waverley Mall
It's great to see local coffee roastery Williams & Johnson taking up residence in a prime city centre spot in Waverley Mall. This brings much needed coffee excellence into the very heart of the city.
14. Buffalo cauliflower – Seeds for the Soul
Seeds for the Soul is a really good vegan cafe in Bruntsfield. As well as serving excellent vegan sausages from BBL, they do a mean deep-fried cauliflower in a really satisfyingly crisp crumb.
15. The Calabrian – 24 Royal Terrace
RT's Bar at 24 Royal Terrace is a smashing new place to drink, particularly on a sunny day when you can take advantage of their superb back garden. This is the best place to drink al fresco in the city. Their Calabrian cocktail is a great summer livener with Italicus rosolio, bergamot soda and Sipsmith gin making for a gloriously refreshing drink.
16. Monkfish satay – White Horse Seafood & Oyster Bar
The monkfish satay at the White Horse is a mesmeric dish featuring splendid fish in a deeply satisfying peanut sauce. The White Horse is also a great option for a quick oyster feed.
17. Damn Son! – The Black Dahlia
The Black Dahlia is a super-stylish new cocktail bar from mixed drinks legend Jamie Mac. Their sunset views are quite splendid. Sit back, relax and sip a great cocktail as you look out over the Festival city.
18. Soup – Union of Genius
No list of this type would be complete without a soup, salad or stew from Union of Genius. Their Forrest Road cafe is a compulsory stop for Festival refuelling. Maybe try their caldo verde or perhaps the coronation chicken, if you're lucky.
19. Steak tartare – Le Roi Fou
Le Roi Fou is currently my favourite restaurant in the city. Their steak tartare is memorably good amongst a menu of excellent food and drinks.
20. Sopaipillas – 83 Hanover Street
83 Hanover Street has recently opened under the stewardship of Juan Jose Castillo Castro. It brings an innovative fusion of South American and European influences in their sharing plates menu with their sopaipillas – a pumpkin dough pastry – a must-try.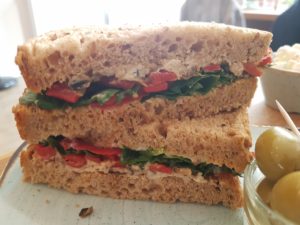 21. One Bowl Wonder – Eating House at the Meeting House
Providing much needed nourishing bowls of goodness, Eating House at the Meeting House returns after a popular 2017 run on Victoria Terrace. Their one-bowl wonders are a great between show option.
22. Scones – Tasty Buns
For sweet treats or a nice cuppa and scone, head to Tasty Buns on Bread Street. It's a terrific place so make sure to visit.
23. Falafel wrap – The Falafel Prophecy
The Falafel Prophecy offers the best falafel wraps in the city so is a great option, particularly when a relaxing stroll through the sun-bathed Meadows is the order of the day.
24. Lunch – Edinburgh Food Studio
The Food Studio has been serving knockout dishes from their Dalkeith Road base since 2015. August marks a move to lunch service and Wednesday to Sunday opening hours which is hugely exciting news. Make sure to visit for creative dishes showcasing the best in local produce.
25. Crepe – Tupiniquim
The crepes from Tupiniquim are a perennial favourite, particularly with those who pursue a gluten free diet. Stop by for a freshly made treat, full of charm and flavour.