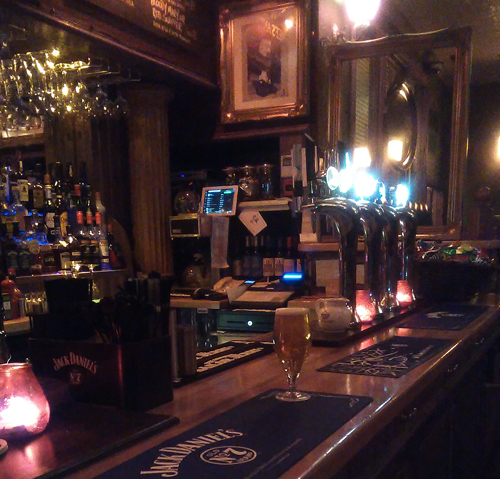 The Joker & the Thief
Our Beer Man's Verdict
A clutch of decent pubs have sprung up on Leith Walk – for so long seemingly stoutly resistant to gentrification – in recent years.
Boda and Victoria led the way, and have been joined by venues including the Black Fox, the Brass Monkey, Brig, the Cask And Still, Woodland Creatures and, most recently, Leith Depot. I doubt the traditional old boozer will ever be squeezed out completely, although it is perhaps now outnumbered.
And there is now a new addition, the Joker & The Thief, which has taken over the premises previously occupied by the Brunswick Ale House near the top of the Walk.
The sign outside for ancient German brewery Weihenstephaner bodes well, as does a board promising cask ale, pizza from the excellent Origano and "inconspicuous" sport.
And so it proved. It's a nice place, with a relaxed and inviting atmosphere. Although I was just in for a quick pint, I get the feeling it would be a great place to spend a lazy afternoon lingering over the Sunday papers.
As well as the main bar area looking out on to Leith Walk, there's a raised seating area – which boasts its own "private bar" so you can get served directly from there – and a cosy area at the back which, as promised, discreetly shows the sport on an unobtrusive screen. The music is good, as you might expect given the framed pictures round the walls of icons like Bjork, Hendrix and John Lydon.
There's a lot to like about it.
The beer selection is good, with Tempest, Williams and, of course, Weihenstephaner on draught, along with the usual suspects. And there's a great selection of bottles too, including Alechemy, Cromarty and Flying Dog.
It's keenly priced. I have a half of the cask Tempest White Light (£1.75) and – as one of the most dependable beers in Scotland – it's refreshingly drinkable as usual.
A half of the Armadillo on keg (£1.65), again from Tempest, is less good – it's too cold and gassy to let the flavours really shine.
But that's a minor quibble that didn't significantly detract from a pleasant first visit to the Joker & The Thief. It's a most welcome addition to the pubs on Leith Walk, and has the potential – despite the aforementioned competition – to be a popular destination.
The Joker And The Thief, 71 Elm Row, Edinburgh EH7 4AQ