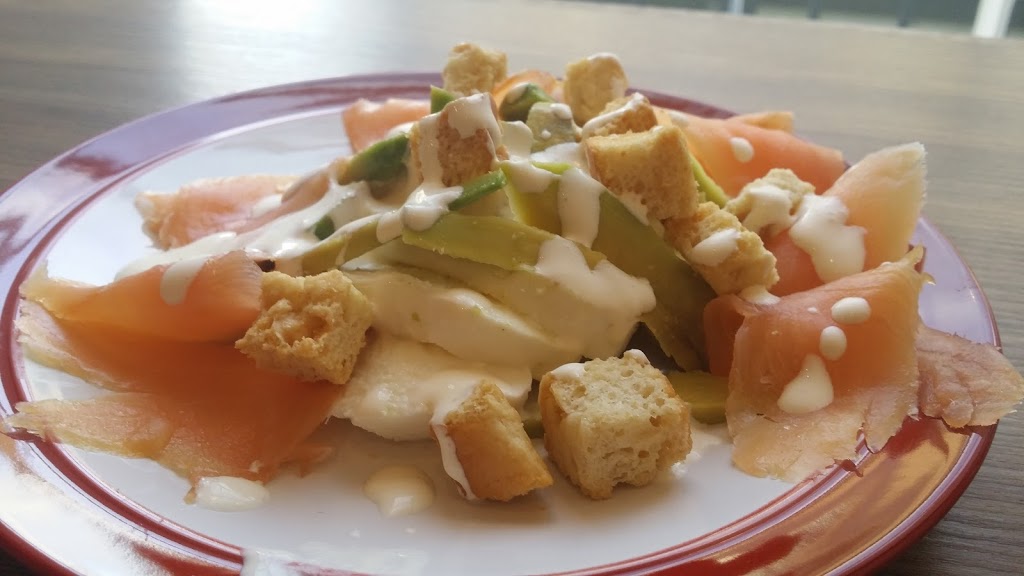 Tazza di Cafe
I noticed a few weeks ago that Ravenous on Dundas Street had gone the same way as their Stockbridge branch and closed down. It's almost always sad when places cease trading but change is inevitable. The hope is that something new and exciting arrives in their stead, and judging by today's visit this seems to be somewhat the case with Tazza di Caffe.
The interior has had a complete refit and has a fresh and clean feel to it. This was matched with a very warm welcome from the friendly counter team.
Having been open for just a few weeks, they're still tweaking their offering, but freshness seems to be at the heart of the operation.
Their regular menu offers sandwiches, salads and cous cous dishes, with a good range of combos listed on their chalkboards. On Fridays they also offer bacon rolls and soup, which is a novel approach.
I was drawn in by their smoked salmon, mozzarella, avocado and lemon cream salad so ordered it and took a seat at one of their shelf chairs.
I decided to verify that I still don't like Lavazza espresso – it has always been served bitterly nasty everywhere I've tried it in Edinburgh – and am sorry to report no change to my loathing. Moving on.
The salad soon arrived looking pretty good. It proved a bright and creamy combination of flavours with good quality ingredients brought together in a simple, coherent dish. I was pleased with it.
So overall, I enjoyed the food and welcome at Tazza di Caffe. It's not just another sandwich shop, which is a criticism that could easily have been levelled at the previous occupants. It served me zingy and enjoyable food that's likely to have a broad appeal. I must pop back to give their Friday bacon roll a go, too.
Scores
Blythe scores Tazza di Caffe
3.5/5 for food
3.5/5 for presentation
4/5 for service
3.5/5 for setting
giving an overall 14.5/20
I ate: smoked salmon, mozzarella, avocado, croutons, sweet lemon cream
I drank: espresso, water
I wore: pinstripes
Total bill: £5.80
Address: 44 Dundas Street, New Town, Edinburgh EH3 6TN