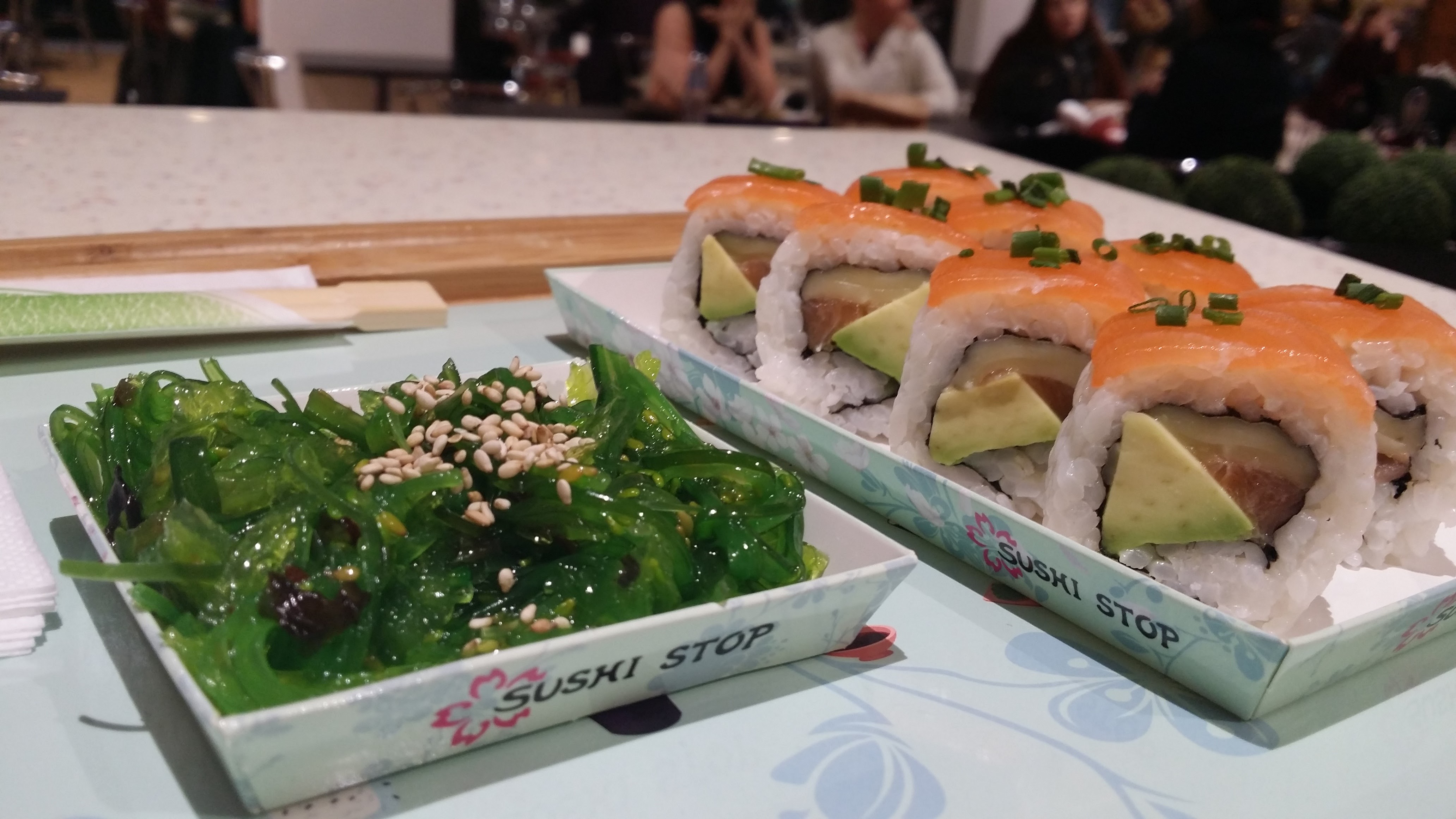 Sushi Stop
I was in need of a very quick lunch bite, so dusted down the "quick and easy nearby bites" list and came up with the Sushi Stop in Princes Mall. I'd heard a couple of reasonable reports so ventured towards it with a spring in my step.
Given quite how ghastly Princes Mall is, they've made a very passable job of making it feel like a little corner of Japanese serenity. The wall of cherry blossom was really quite smart. I still had to contend with the view of Stop…, but this felt like making pretty good lemonade with jolly bitter lemons.
Their menu options are slightly confusingly articulated, but basically you can add side dishes and drinks to their main list of sushi dishes for a bit less than the disaggregated total.
So to my special salmon roll (£5.99), I could add seaweed salad and green tea for £2.29 instead of a bit more than that. The friendly counter man told me I should have the tea with milk and honey, which made it look like pea soup and taste of nothing.
The seaweed salad was pretty fair without really setting the pulse racing.
The sushi roll was not bad. It was analogous to supermarket quality sushi but quite nicely presented and a decent amount for the cash. For a cheap and cheerful sushi hit on the go it did the job with the minimum of fuss.
So overall, when next I'm pressed for time and need something light to munch on the train I can see myself popping in to the Sushi Stop. It's never going to be anything more a lunch of convenience, but these type of things have their place. I'll likely be back and would suggest you note its presence, in case you find yourself with a similar need as I had today.
Scores
Blythe scores Sushi Stop
3/5 for food
3.5/5 for presentation
3/5 for settting
3/5 for service
giving an overall 12.5/20
I ate: salmon special roll (salmon, cheese, avocado, chive), seaweed salad
I drank: green tea
I wore: striped shirt
Total bill: £8.28
Address: Princes Mall , Princes St, Edinburgh EH1 1BQ