Russell's Verdict
A Tasca calls itself a coffee shop, but it's more of a cafe which happens to serve coffee. Its dishes are primarily eat-in, though some items can be taken away, including a range of Portuguese cakes and sandwiches. We entered on a Saturday lunchtime and the place was empty, which was particularly strange since nearby cafes were rammed.
An empty cafe is sometimes a bad sign, but I was reassured by the unusual menu options, which included pig's feet with coriander, Portuguese stews and pork sandwiches, and sounded more traditional, or, at least, experimental, than your usual fare.
We sat near the entrance, though there was a corridor which led to other areas with dainty tables and artwork hanging on the walls. A selection of painted plates adorned the wall next to us, which gave the room a homely but eclectic feel.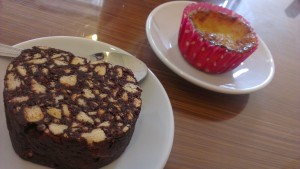 After asking the server for recommendations, we ordered chicken gizzards, a bread stuffed and baked with pork inside, plus a potato, leek and chorizo soup. The gizzards were delicious; tasting home-cooked with a soft texture and warming, herby and meaty sauce. The special porky bread (also known as Bola de Carne) was moist and hammy, with generous amounts of shredded pork and a dry herb topping. A slight drop in form, the potato and leek soup was a little lacklustre, although perfectly fine. A simple dill-dressed salad, bread and salted crisps also came along for the ride.
Following our savouries, we were enticed into trying something a little sweeter. Again on recommendation, we sampled a "chocolate salami" and lemon milk cake which was something of a chimera between Yorkshire pudding and lemon drizzle cake. Both very tasty, and a steal at £1 each!
We'll definitely be going back to A Tasca. The food was (for the most part) really delicious. Whilst the cafe was empty, we felt at home in the surroundings, and our meal was a steal at just £13.50 (including drinks!).
Scores
Russell scores A Tasca
4.5/5 for food
4/5 for presentation
4.5/5 for service
3.5/5 for setting
giving an overall 16.5/20
We ate: chicken gizzards, bola de carne, leek and potato soup, bread, salad and crisps
We drank: lemonade
We wore: dinosaur t-shirt and jeans, a ninja-esque black blouse
Total bill: £13.50