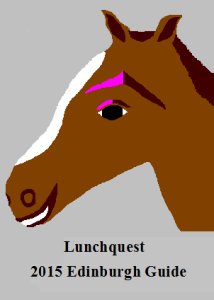 Guide to Edinburgh, now in its fourth edition.
This year we have broken from the previous pattern of top fives across many categories to go with a simple A-Z list of the 101 places we most frequently recommend to our readers.
We made this change for a number of reasons. Some of them include: many of our previous categories have way more than five really good places across the city; some have many less than five; there are a growing number of one-offs or places that defy categorisation; and we generally got a bit fed up of the previous format.
This has meant a fair retrenchment on numbers from the 2014 Guide, which included 28 categories. This has been very hard work, with final decisions made right up until we stopped making decisions.
There are a bundle of businesses I'd gladly have included, but I think we've ended up with a list that we're both happy to stand behind as the places we actually send people when they ask for our advice on where to go in Edinburgh.
We closed the shutters on consideration of new (or new to us) places quite a few weeks ago, so there are some recently reviewed places – I'm thinking of Barnacles & Bones, Filament, Stack Dim Sum, Daniel's Swiss Bakery, Checkpoint and possibly others – that will need to wait until next year for potential inclusion.
There are bound to be places that haven't made the list that you think should have. Firstly, we're never going to get round absolutely everywhere in the city as we're a tiny operation in terms of overall manpower. Also, there are places you think are great that we think are pish and vice versa. This is our view of the city based on the 1350+ daily posts that make up the totality of Lunchquest.
We hope you enjoy the Guide. Let us know what you think. Hopefully it steers you towards another year of outstanding dining experiences in our fabulous city.