MJ's Verdict
When Deli Polonia, on Leith Walk, closed I had been meaning to give their lunches a go for a while, but then, alas, they shut their doors. The Yellow Bench is exactly what was needed to sneak its way into this area, where I go to get Polish breads and treats.
Luckily for me, we had Tracey coming into town and I nixed the idea of a fancy dinner at a posh place, so we headed down to my neck of the woods and found a table at The Yellow Bench. The décor is bright and welcoming, with interesting artworks and an unusual downstairs area that could be utilised in the future should the need arise.
The menu is small and well formed. Blythe knew what he wanted, and Tracey was tempted by the Beef Stroganoff, but first, as ever, there was soup to be ordered. We were all given a nice taste of the soup, and it was excellent. Light, and rich at the same time, with the earthiness of the beetroot piecing though a stock that was perfectly seasoned to balance the natural sweetness of the beetroot.
Soon after, our mains arrived, and we went a menu-happy since there were so many interesting things to try. First I had a go at the Stroganoff. It was not an elegant dish, but it is not meant to be. The beef was cook to a soft, melting consistency and the gravy was spot on.
My own traditional bigos dish was a hearty and healthy feeling dish of cooked sauerkraut with three different types of meat, mushrooms, herbs and prunes, left for a few days to meld the flavours. It is known as the 'hunter's stew' and it certainly was more hearty than I expected when it arrived along with a huge wedge of butter and a roll. The mix of flavours in the stew was lovely; perfectly seasoned with that bite that sauerkraut gives and a hit of sweetness to offset it that was unexpected, but worked wonderfully.
Simply because it sounded interesting, we ordered the Pirate's Treasure for all of us to taste. It turned out to be a meat based stew-like dish with a well-seasoned gravy served with a potato cake.
We each opted for a selection of salads and we received a plate of beetroot, sauerkraut, carrot, and one other salad that were on the specials menu of the day.
Blythe was well pleased with his mielony, and we followed the meal with tea. We were all well-fed, delighted with the helpful and friendly service and genuinely cheered by having felt that we had found a real gem of a place.
Blythe's Verdict
We'd had Yellow Bench on our radar for a wee while, but hadn't quite got our act together to pay it a visit, until this evening. Regular quester, Gary, had recently visited, and pronounced it to be really rather good. As we were soon to find out, he was not wrong.
Their menu offers quite a range of home-cooked delights, with crepes, waffles, pierogis, stews and substantial main courses, and a range of daily changing soups, salads and other specials. It took us a minute or two to consider our options, as we sat at the large window table in their airy and bright dining space.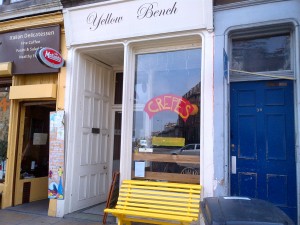 We had a few questions to ask our delightful waitress, as you would expect given that we were all, at least to some extent, unfamiliar with some of the menu items. She helpfully stepped us through the specials, and expertly dealt with our queries.
I liked the sound of the borscht, so ordered that to start. We all liked the sound of the all of the salads, so each ordered a little mixed platter of them. Tracey has heart set on beef stronganoff, while Miriam chose the bigos. Gary had given me clear instructions to try the mielony, so I was happy to go with that. We added a shared portion of the pirates' treasure, once we'd had the dish of meat and potato pancakes described to us.
The borscht arrived in a mug and looked rather thin. It did smell rather good, though. The waitress asked if Tracey and Miriam would like little sample cups to try, to which they enthusiastically agreed.
The soup proved to be absolutely outstanding, blowing every other borscht or beetroot soup I've tried clean out of the water. It packed mountains of sweet, earthy and perfectly seasoned flavour in to each sup. It richly deserves its place in Soupquest's exceptional category.
Main courses were very impressive, too. Tracey's stroganoff was a generous portion of beautifully tender beef. MJ relished her bigos. My mielony was extremely good, too, with two hearty crumbed nuggets of tender minced pork and beef. They were packed with flavour and moisture, and deeply satisfying.
The pirates' treasure was a slightly inelegant looking dish, but again packed plenty of flavour, with the meat beautifully tender. The salads were all excellent, with the beetroot a particular winner.
We rounded things out with simple mugs of Tetley, served with honey and lemon.
So overall, Yellow Bench was massively impressive. The hearty fare on offer was high on flavour, low on cost, so represented wonderful value. Rarely have I tasted I finer soup, too, so I was mightily pleased by the experience. I'd strongly recommendation you pay it a visit, as soon as you can make time in your schedule.
Scores
Blythe scores Yellow Bench
4.5/5 for food
3.5/5 for presentation
4/5 for service
4/5 for setting
giving an overall 16/20
MJ scores Yellow Bench
4.5/5 for food

3.5/5 for presentation
4/5 for service
4/5 for setting
giving an overall 16/20
Today's questers were: Tracey, MJ, Blythe
We ate: borscht, mixed salads (sauerkraut, onion, carrot, beetroot), beef stroganoff, bigos, mielony, pirates' treasure
We drank: water, tea
We wore: trekking boots, lovely coat that just wasn't quite warm enough, Polartross tie
Total bill: £28.55