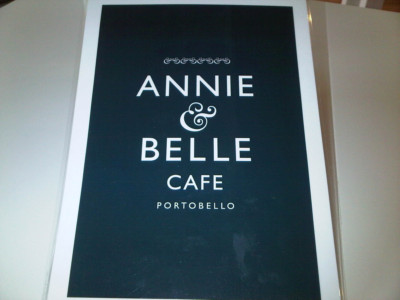 For reasons I will not explore in depth, I found myself out of the road, trudging through the snow, from 7am, yesterday morning. I had racked up quite a few miles, by the time hunger struck. When it did, I was in the Portobello neighbourhood, so took the opportunity to check out the latest addition to their cafe scene, Annie & Belle, which opened on Wednesday.
A combination cafe and gift shop, it's run by two lovely young ladies, Annie and Dixie (the Belle of the cafe's name is Dixie's middle name). Busy the whole time that I sat there, it seems to be attracting a good crowd of folks keen to sample their home fashioned cakes and good coffee. Indeed, I will be instructing Sarah, of Cake Quest fame, to come and sample a slice (the walnut cake looked excellent), at her earliest convenience.
I was after more savoury sustenance, as is often the case, so chose the soup of the day from the small but neatly comprehensive menu. Today's soup was leek and potato.
It arrived in good time, and was served with two good slices of freshly baked white bread. I tucked in, while gently encouraging my feet to defrost themselves.
The soup was heartiness in a bowl; a big hug of a soup. Chunky chunks of potato had warmth coursing through me, and vitality returning to my harshly treated extremities.
I still had miles to go before I slept, so rounded off my shivery bite with a cup of good coffee.
Overall, Annie & Belle is a completely charming little cafe. I can see it being a real success over the coming months and years. They have a few little issues to iron-out in terms of service (there was a little confusion as to whether its table service or order at the counter, from a few of the customers who came in), but this will come in time.
They're beginning from a really high-quality starting-point, so they have an excellent opportunity to develop a really characterful Porty High Street staple. I'd recommend you go along, try the soup, and, when you have a little more time than I did, succumb to temptation and let your tastebuds run riot with their cakes.
Scores
Blythe scores Annie & Belle
4/5 for food
3/5 for presentation
4/5 for setting
3/5 for service
giving an overall 14/20
Today's lunch quester was: Blythe
I ate: leek and potato soup
I drank: coffee
I wore: blue overcoat and rosy cheeks
Total bill: c.£5.50