Top in 2017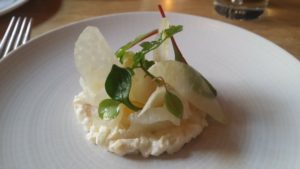 Here's the list of the top places we've visited in 2017. All of these places scored 16.5/20 or better, marking them out as exceptional places to eat.
The Gannet
Home of highly accomplished cooking that provides an excellent showcase for outstanding local produce, The Gannet is comfortably the best place at which we've eaten in Glasgow, to date.
Number 16
A really settled, stylish and relaxing place to dine, full of quality and charm.
Larder To Go
A magnificent Edinburgh spot for lunch served at the double. Delicious.
Ox & Finch
Sharing plates of locally driven goodness, Ox & Finch is a very reliable source on top quality grub.
Soul Sushi
Soul Sushi is a first-rate place for really good quality delivery and takeaway Japanese fare. Their Nicolson Street is an excellent step in their continuing culinary journey.
Wylam Brewery Tap
A delicious menu of light bites provides an excellent foil for the outstanding beer at the Wylam Brewery Tap in Newcastle. It's a place to add to your list for a visit, soon.