Top in 2017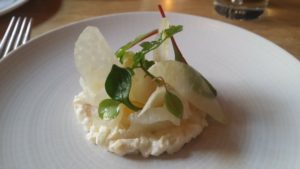 Here's the list of the top places we've visited in 2017. All of these places scored 16.5/20 or better, marking them out as exceptional places to eat.
Bozar Brasserie
1 Michelin star Bozar Brasserie in Brussels is a fantastic place and one of the best places to watch a kitchen in action I've ever visited. The food is delivered to an excellent standard and merits a trip to Brussels if you happen to be looking for an excuse.
Cail Bruich
Rarely have I enjoyed the end to end experience in a restaurant as much as my dinner at Cail Bruich. I sampled some beautifully executed food and imaginative drinks pairings. Outstanding.
Aizle
An outstanding restaurant experience with peerless service and food designed to challenge and surprise.
The Gannet
Home of highly accomplished cooking that provides an excellent showcase for outstanding local produce, The Gannet stands with Cail Bruich as comfortably the best places at which we've eaten in Glasgow, to date.
Domenico's
An excellent Sunday breakfast menu has recently been added to the top-notch Italian fare at Domenico's in Leith. Make sure to visit soon, especially for their killer Bloody Mary.
Alchemilla
Just over the road from The Gannet, Alchemilla is a fine exponent of small plates dining. With Mediterranean flavours to the fore, backed up with a strong commitment to local sourcing, this is a very smart place indeed.
Baba Budan
Already an excellent coffee purveyor, Baba Budan has now added a first rate food offering making it one of the best cafes in the city.
The Bach
A fantastic Dundee cafe bistro serving excellent coffee and food full of warmth and charm.
Bistro Deluxe by Paul Tamburrini
A high-class hotel restaurant with real potential to build a wide and appreciative audience. A very good value prix fixe is backed up by and varied a la carte. Very much worth a visit.
Castello Bruntsfield
Castello Bruntsfield is high on quality, with excellent coffee and a more expansive food menu than their mothership branch. The smoky beans are a particular winner.
Castello Coffee
One of the city's finest cafes, Castello is a fine purveyor of soup, high quality sandwiches and coffee.
The Fat Pony
A splendid wine bar serving excellent small plates. With a menu of locally-driven, well-crafted and ever-changing dishes, matched with a varied and high quality drinks list, this is a great addition to our eating and drinking options.
Machina Espresso
Some blinkin' lovely salad goodness has been added to Machina's already power-packed coffee offering to make their southside branch an absolute must-visit gem.
Number 16
A really settled, stylish and relaxing place to dine, full of quality and charm.
Twelve Triangles Kitchen Table
A lovely communal dining space with a power-packed menu of breakfast, brunch and light lunch dishes. An exceptional place for relaxed munching.
Black Pig & Oyster
An impressive new additional to Commercial Quay focussed on high quality Spanish dishes.
Clark & Lake
A lovely new wine bar with excellent comestibles including first rate raclette and an impressive array of cured meats and cheeses. It has very good beer, too, making it a real crowd-pleaser.
Katie's – now LeftField
A fantastic reawakening for a place that had run its course, Katie's (now trading as LeftField) is a gem of a local eatery.
King's Coffee & Books
King's was a very unexpected pleasure at the heart of Dumfries. I enjoyed their coffee and their carrot sandwich was highly memorable.
Larder To Go
A magnificent Edinburgh spot for lunch served at the double. Delicious.
Lovecrumbs
Building upon their cakey goodness, Lovecrumbs now offers a power-packed selection of all day savoury treats. An excellent place.
Ox & Finch
Sharing plates of locally driven goodness, Ox & Finch is a very reliable source for top quality grub.
Picnic
Fresh, delicious, plant-based lunches from this excellent Merchant City cafe.
Quay Commons
Lots to like and likely better to come as this bonnie little cafe develops its offering. Fine local ingredients, treated with care and attention.
Seasons
A really accomplished and fresh take on the multi-course tasting menu, Seasons is guaranteed to offer dishes of quality and class.
Shrimpwreck at Bourbon
Shrimpwreck have managed the transition from street food truck to permanent premises with skill and aplomb. Their menu is packed with new delights and old favourites that are guaranteed to please.
Soul Sushi
Soul Sushi is a first-rate place for really good quality delivery and takeaway Japanese fare. Their Nicolson Street is an excellent step in their continuing culinary journey.
Wylam Brewery Tap
A delicious menu of light bites provides an excellent foil for the outstanding beer at the Wylam Brewery Tap in Newcastle. It's a place to add to your list for a visit, soon.