Wokness
In terms of the best restaurant name in the city, I've long been of the opinion that Wokness takes a lot of beating, particularly with its outstanding Nessie logo incorporating a wok.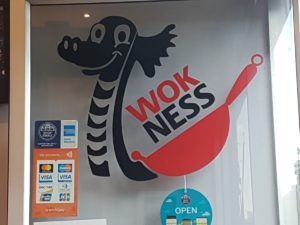 Having moved to just around the corner, I couldn't not give them a visit. In a break from recent laziness I popped round and collected rather than utilising a delivery service app.
Their menu is typically broad so I did well to keep things down to three dishes.
With the beginnings of a summer cold making my throat very tickly, I opted for a hot n sour soup to attempt to kill it with chilli heat. I added their prawn dumplings and a portion of special udon noodles. This came to a total of £14.10.
The dumplings were made fresh to order with a warning passed on that this would mean a 15-20 minute wait. This was fine by me.
With items in hand, I strolled homewards then unpacked things once in situ. Photographs followed then it was time to eat.
I started with the soup. Hot n sour isn't a huge favourite but this was much needed cold medicine so was greatly appreciated.
The dumplings were no lookers but were of otherwise pleasing quality. The cable-like udon featured a huge array of whatnots atop them and proved a hearty backbone to the meal. The pork was particularly good.
So overall, Wokness did a good job of addressing my hunger and giving me a wee chuckle in the process. I'd order from them again and would recommend you do likewise next time you're looking for well-considered Chinese food. And I'd be glad to hear any thoughts on a funnier restaurant name in the city, but won't be holding my breath.