The Edinburgh Stuff Guide 2018
The "stuff" guide is much as you would expect: a listing of the best places in Edinburgh to get various sorts of…stuff. Let's start with one of the more hotly debated topics then take it from there.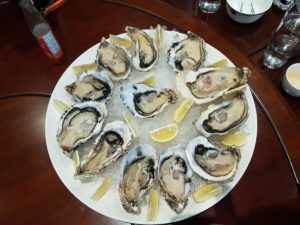 Burgers
Many people think we are over-saturated with burger options. I'd counter by saying we're over-stocked with poor and mediocre places. We are blessed with some good ones, though.
Our favourite burger comes from BBL on the Pleasance, which is a fantastic little café making their own burgers on the premises. Jones & Son, Checkpoint, Meat Stack at Salt Horse, Belly Buster, Feed, Bell's Diner and Finn & Bear are damn fine, too. The best end-to-end burger dining experience is to be found at Bread Meats Bread. I really enjoy the cauliflower-based veggie burger from the Whistle Stop Barber Shop and if you're thinking vegan head to Holy Cow or Paradise Palms.
Pizza
We are now blessed with a really good crop of differing pizza options. Origano remains my favourite, but the likes of 1926, Dough, Civerino's, and Soderberg offer such a breadth of styles that pizza has become a real strength in the city.
I'm really looking forward to Napizza's arrival in Corstorphine. Their Stirling branch is the best pizza I've had in Scotland so it will be interesting to see how they do in a slightly awkward location.
Of the late night takeaway variety, Verona, Mania and Moratti are the places to try. Wanderers Kneaded and Pizza Geeks do excellent street food pizza.
And there has to be a special mention for Hungry Wolf and their Georgian cheese boat which is an absolute treat.
Indian
The general standard of Indian food in Edinburgh is very good. There are a little grouping of cheap and cheerful curry places towards the southside of which Kebab Mahal is the most entertaining.
Tanjore is excellent for informal south Indian dining – think dosa and the like – so well worth a visit. Golden Ambal is a good dosa option in Leith. Roti is good for small plates.
For smarter Indian options Spice Lounge Kitchen is very good indeed.
There's a plethora of curry houses which are mainly to a very pleasing standard. The Gurkha Café, In Touch and Vinyasa are the ones we rely upon most regularly for this style of thing.
Mumbai Mansion and Navadanya are in the process of moving to new venues so it will be interesting to see how they get on.
Seafood
Ondine is the premier seafood place in the city with an extremely high quality offering. The White Horse Seafood & Oyster Bar is excellent, too. The Ship on the Shore has lots of character, so we recommend it to people pretty frequently. The Light House in Newhaven is definitely worth a visit. Stop at The Fishmarket while you're in Newhaven, too. Hooked and Shrimpwreck offer contemporary street food seafood.
And if by seafood you mean "chippy", Giovanni's and L'Alba D'Oro are the best ones.
Japanese/Sushi
We have a very good selection of Japanese and sushi places in the city. Kanpai is the best, with their new branch Yamato outstanding, too. Harajuku Kitchen offers more hearty fare. Maki & Ramen is a good informal option, with very good value small ramen bowls. Kenji and Bentoya – both in the same ownership – are very good.
Pub Grub
We have many pubs that do very good food (The Bon Vivant, Salt Horse etc), but we're pretty light on places that do traditional pub grub such as good steak pies or sausage & mash. Teuchters Landing is probably the place with the best and broadest selection. It's a place I really enjoy.
The Ox is pretty good, particularly on a Sunday when there are great roast options. The Barony is a good option. I enjoyed the Hermitage Bar when I was there. Carnivore does good meaty sandwiches so might just about fit in this category.
But pub grub remains an aspect of Edinburgh's dining scene that could use some improvement.
Booze
My taste in pubs and bars tends to split into two camps: beer and cocktails.
For beer, Salt Horse, the Brauhaus, Cloisters, the Bow Bar, Stockbridge Tap, Hanging Bat, Guildford Arms and Usher's should do you.
For cocktails, this post sums things up pretty neatly, with Kin, The Black Dahlia, Carnivore, 24 RT and the Register Club worthy of addition to the list. Bryant & Mack has sadly closed down.
I'm gradually building an appreciation for wine with Smith & Gertrude, The Fat Pony, Good Brothers and Clark & Lake my current favourites.
Steak
Blackwood's at the Nira Caledonia is the best place in town for steak and perennial favourite Chez Jules always hits the spot for steak frites. The three branches of Chop House are reliably good. LeftField cooked me the best steak in a long while on a recent visit, so should also be on your list.
Breakfast
I think Edinburgh is weak on good breakfast options. Tollcross has a couple of decent greasy spoons – Quick & Plenty and the Yellow Deli – for a restorative fry-up, but they're hardly gourmet delights. Castello Bruntsfield has really good egg dishes.
Porto & Fi is the cream of the crop for breakfast, but is a little out of the way in Newhaven. While there you also have The Haven. Patisserie Maxime is great for poached egg dishes, as is The Pantry.
Maialino does the best bacon rolls in the city. Zest & Co does excellent haggis rolls. Coletti & Co, Rocket, Brochan, Grams and Hula are good for healthy options, but there remains a gap for a really outstanding breakfast place in the city.
Dessert
I'm not a sweet tooth, but I recognise that Lovecrumbs, Casa Angelina, Strumpets, Tasty Buns and The Marshmallow Lady are lovely places.
Mary's Milk Bar is highly pleasing for ice-cream. Suki Bakes supplies some of the best wholesale sweet treats in the city so try them wherever you see them. And Pinnies & Poppyseeds is excellent for shortbread.
Coffee
Coffee is covered in detail here.
Street Food/Markets
Street food is covered in detail here.
BYO
Bring Your Own Bottle places can be very handy. The best of these is The Walnut, which has a very good Oddbins just over the road from it. Middle Eastern places tend to be good BYO options, with Beirut the pick of the bunch.
Some of the steak places – Chop House, Hawksmoor etc – offer a corkage night on Mondays, so that's sometimes a good option.
Grilled Cheese
Cairngorm and Mellis are the two best for melted cheese sandwiches. Clark & Lake offers an excellent raclette sandwich so is one to consider.
Overall, there's probably a stack more places and types of stuff to cover, but that should keep you busy enough for a wee while.