A Guide to Edinburgh's Neighbourhoods 2018
During Edinburgh's Festival month, you may find yourself in some corners of the city that are less familiar to you. Hopefully this guide to Edinburgh's neighbourhoods will help.
I don't live in Haymarket anymore, but for old time's sake let's start there.
Haymarket/West
Nearest to my old house we have the excellent Grams. Their avocado toast is great and their coffee first class.
In Haymarket, you have the meaty delights of Turkish mangal place Rodi, the excellent Otro, the Black Hoof, Vietnam House for pho, the best bacon rolls in the city at Maialino, great haggis rolls at Zest & Co, the joyful Strumpets for delicious soup, sandwiches and coffee, and Noir for coffee greatness. Nanna Flo's is sometimes very much required for late night baked goods.
Further West, there's a very good Indian called Spice Lounge Kitchen so that's worth the journey. Nudoru is a curious little Chinese van that delights on South Gyle Crescent. The Sitooterie at Stenhouse Cross has a great name and The Kilted Pig does a fine breakfast.
Coming back towards town, Café Colpamia is a lovely little cafe in Roseburn, I really liked Cafe Presko when I visited, B&D's Kitchen is very good for Chinese and Piatto Verde offers very good Italian food.
1926 offers a strong take on Neapolitan pizza and their mother restaurant Locanda de Gusti is widely considered the best Italian in the city.
Bruntsfield/Marchmont/Morningside
Heading up the road from Dalry, you soon hit Bruntsfield which is very well stocked with cafes and eateries, with the adjoining areas of Marchmont and Morningside offering some good options, too.
Three Birds is the pick of the restaurants here, so make sure to visit for their excellent platters. LeftField comes a close second and is a damn fine addition to the neighbourhood. I really enjoyed The Apartment, too. The Chop House has recently joined the party, as has Castello Bruntsfield
There are many other good coffee options with Artisan Roast, Project Coffee, and The Counter.
Two nearby places offer excellent deli selections, so make sure to visit both Seeds for the Soul and 181 Deli.
Morningside's Rocket is one of my favourite places in the city from breakfast and I really enjoyed The Pod for brunch-style options. The Hermitage Bar does a good pub lunch.
Marchmont's The Rabbit Hole is a great, informal local eatery. Brochan is a must for porridge fans. I liked 27 Elliott's, too.
As you head to the Meadows, the Wanderers Kneaded pizza fun is really good and further street food goodness can be grabbed from the Fired Up Food Hut and the Falafel Prophecy police box.
Tollcross/Lothian Road
From Bruntsfield heading towards the city centre, we run in to Tollcross then Lothian Road. This provides rich culinary pickings.
On Fountainbridge you have Akva and The Counter on the Canal, both of which are excellent. You have a couple of further branches of The Counter nearby, too.
You have good Japanese options in this neck of the woods with Harajuku Kitchen and the superb Kanpai and Yamato.
For light lunches, Jeelie Piece, Khartoum Café, and Taquito are good choices.
I really like Coletti & Co for breakfast and The Colony is really charming.
Thailander has solid claims on the best restaurant name in the city and also serves excellent food. The Bombay Bicycle Club is back on form after a change of ownership.
Coffee options include Machina Espresso, Pekoe Tea, which also does excellent tea, and the macaron delights of Mademoiselle Macaron.
Bread Meats Bread is the best burger diner in the city.
Cloisters, the Brauhaus and The Hanging Bat will keep you in good beer. And Clark & Lake is a first class place for wine, beer, charcuterie and cheese.
West End
The West End includes excellent coffee from Cairngorm and I like Patisserie Maxime for breakfast. Milk Juicery is good for a light lunch.
There is restaurant excellence at The Bonham, Forage & Chatter, Galvin Brasserie de Luxe, Castle Terrace, and L'Escargot Blanc.
L'Escargot Blanc has an exceptionally good wine bar, Bar a Vin, as part of their offering, too. Other good drinking options include the Voyage of Buck and Thomson's Bar.
City Centre/New Town
The City Centre keeps the quality up and there's plenty of good value on offer.
George Street can be pish and pricey, but there are still good places to try nearby including Café St Honore, Chez Jules, Mark Greenaway, The Dogs, and the spectacular El Cartel. El Cartel's big brother bar restaurant The Bon Vivant is excellent and has a bangin' cocktail list to boot.
Henderson's Vegan is really good and not just for vegans; the same can be said for Holy Cow. The Pakora Bar is a pretty solid choice for a quick bite on the go.
Then you're in to the heart of the New Town with great places such as the New Chapter, Blackwood's at Nira Caledonia, Wee Buddha, Leo's Beanery and Archipelago.
Gannet & Guga is impressively good for hot sandwiches, Time 4 Thai is one of the better Thai restaurants in the city, Social Bite is a good lunch spot, as is Rabbie's, and Dough serves very fine pizza.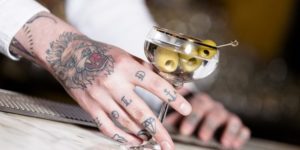 Great coffee can be found at Baba Budan, Hyde & Son, Fortitude, Pep & Fodder, Wellington, Lowdown, The Milkman, Cairngorm, Williams & Johnson at Waverley Mall and the excellent Castello.
The Table is something quite special and requires significant booking ahead. It's still the best place I've been in Edinburgh, so well worth the wait.
The legendary Bramble will sort you for cocktails, as will its little brother Lucky Liquor. Nightcap is an excellent cocktail option, too. For beerier tastes The Guildford Arms is very welcoming, as is Six Degrees North.
And even Princes Street itself boasts a couple of decent places in the shape of Restaurant 100 and Twenty Princes Street.
Stockbridge
Stockbridge is packed with good places.
For burgers, you have Feed at the Vinnie, which is a very good watering hole, and Bell's Diner. Other places for a good beverage are the Stockbridge Tap, Smith & Gertrude, Good Brothers and the Last Word Saloon.
For coffee there's Artisan Roast and Ronde, as well as nearby roastery Mr Eion. Good & Proper is a nice little deli.
The Pantry is a really good breakfast, brunch and lunch place.
Then there's restaurant excellence at Purslane and Rollo, as well as rather charming Thai at Nok's Kitchen and Kenji Sushi.
Also worth seeking out are the chippy charms of L'Alba D'Oro, and the cheesy cheese at IJ Mellis.
Broughton/Canonmills
Broughton Street is a goldmine of great places. L'Escargot Bleu, Nom de Plume, The Ox, Rollo Broughton, Le Roi Fou, Artisan Roast, Pickles, Educated Flea, Soderberg, Broughton Deli, Fhior, Kin, Casa Angelina, and Life Story are just a few of them.
Down towards Canonmills the Water of Leith Café Bistro, Brandon's, Di Giorgio's, and the Marshmallow Lady are all very good. I liked Herringbone further down at Goldenacre, too.
Leith/Abbeyhill/Newhaven
Leith has some great places.
On Easter Road there's Polentoni, The Percy, Mo Beans and Little Fitzroy.
On Leith Walk you have the pizza excellence of Origano and the value Italian Taste of Italy. There's also The Walnut, The Little Chartroom, Ada, Golden Ambal, Twelve Triangles, and Desi Pakwan.
Down around the Shore there's Domenico's, Ostara, King's Wark, Nobles, the Michelin delights of Wishart, Ship on the Shore, Tapa, Alplings and Teuchters Landing. Quay Commons, Finn & Bear, Toast and Black Pig and Oyster are mighty fine, too, and Cafe Tartine is quite charming.
Good coffee options have arisen with Williams & Johnson at Custom Lane, and the delights from Twelve Triangles Kitchen Table which also boasts a magical array of bakery and pickled whatnots.
In Newhaven, The Light House, The Haven, The Fishmarket and Porto & Fi are lovely. You can grab an excellent beer at The Dreadnought.
Towards Abbeyhill, Century General Store, Art & Vintage and the Safari Lounge are all high quality places. I like Red Kite, too.
Portobello/Craigmillar
Portobello has a lovely feel to it, so make sure to visit for a walk along the promenade.
When there make sure to visit Breadshare and call in for a beer at the Forrester's or the Skylark. There are very good burgers to be had at Man on Fire and there's great coffee from the Little Green Van and Twelve Triangles.
Greek Artisan Pastries, Bross and Green Kilt are good wee places.
You should also stop by Giovanni's on Northfield Broadway on your way there. I&L Fraser will look after your butchery needs.
The White House Kitchen, in Craigmillar, is a must-visit as you wend your way back into town.
Southside
The first place on the southside you'll run into, if coming from Craigmillar, is the Edinburgh Food Studio, which is unmissably excellent and continues to go from strength to strength.
The Apiary and Field remain two of my favourite restaurants in the city.
Soul Sushi, Ransacked Black Oven, Noodle & Dumplings, La Sal and Tanjore all require a visit. Indaba Deli, the Richmond Café, Blonde, Roti, BBL, and Kim's Mini Meals all offer really fantastic options, too.
For coffee, there's Machina Espresso, Cult Espresso and Filament. And Usher's is great for beer.
Old Town
And finally, our grand tour of the city takes us to the Old Town, which is not so crammed with tourist-traps as people sometimes suggest.
Coming from the southside, Ting Thai Caravan, Tupiniquim, Checkpoint, Union of Genius, Olly Bongo's, Beirut, Dovecot by Leo's, Whistle Stop Barber Shop, Lucky Pig at Paradise Palms, and Brew Lab are all very good.
On or near the famous Royal Mile, Angels with Bagpipes, Canon's Gait, Civerino's, Edinburgh Larder, La Garrigue, Michael Neave, Ondine, Wedgwood, Lovage, Salt Horse and the Devil's Advocate are worthy of your attention.
Around the Grassmarket, there's the Grain Store, Fusion Gourmet, Lovecrumbs, Grassmarket Community Café, Hula and the great Timberyard. The Bow Bar is a must for beer and whisky.
And down towards the Parliament, there's Hemma, which is always a joy.
And that's our whistle-stop tour of the neighbourhoods of Edinburgh. Tune in tomorrow for all the best "stuff".