Kricket
London can be a bit of an overwhelming place in terms of selecting where to lunch. Fortunately, of late I have had some good judges to steer me towards the better options with the latest example being when my friend Rene suggested we have lunch at Kricket on Denman Street.
Showcasing Indian sharing plates from an open kitchen with bar dining, this sounded like a place that would be right up my street.
Rene got stuck in a meeting, so while I waited I had the opportunity to observe the remarkably calm and efficient goings on in the kitchen across many stations from tandoors to charcoal grills to prep and plating areas. It was a very slick operation.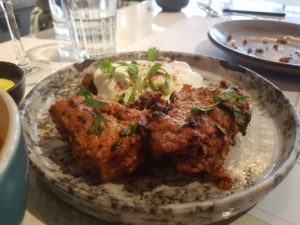 I ordered a portion of samphire pakora to go with my samphire margarita. Big fan of samphire, me.
The pakora wasn't served in the familiar compacted balls, but in a tempura style with a tamarind sauce topping, quite reminiscent of the samphire I'd had recently from Hooked. It was a light and flavourful opener.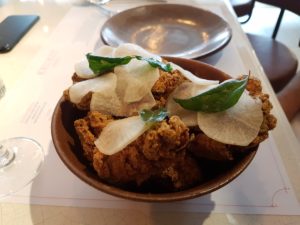 When Rene arrived we added the tandoori lamb neck, roasted butternut squash, fried chicken and daal, along with their masala kulcha bread. These were soon with us looking pretty stylish.
Fried chicken isn't something I particularly associate with Indian food but these warmly spiced nuggets of succulent lean meat were outstanding.
The lamb neck is a relatively new dish on the menu. The meat was tender and packed with meaty goodness.
The butternut squash had good char to it and was again deeply satisfying. The daal and bread were both solidly good.
We rounded things out with aromatic chai which was as good a version of this staple as I've been served of late.
So overall, I really enjoyed our visit to Kricket. It served us bright and characterful dishes with a good amount of pop and pizzazz. From their shipping crate beginnings, they've developed into a very stylish and vibrant place to dine. I'd recommend it to you next time this type of thing appeals.
Scores
Blythe scores Kricket
4/5 for food
4/5 for presentation
4/5 for service
4/5 for setting
giving an overall 16/20
Today's questers were: Rene, Blythe
We ate: samphire pakora, butternut squash, fried chicken, lamb neck, daal, naan
We drank: samphire margarita, pineapple express, water, chai
We wore: curry robes
Total bill: £85.72
Address: 12 Denman Street, London W1D 7HH