Empire Cafe
During my brief stay in Bruntsfield, it seemed silly not to give several of the nearby eating options a try. In this spirit, I popped along the road for a breakfast snack at the Empire Cafe on the corner of Strathearn Road and Marchmont Road.
A bright spot with large windows bathing the place in natural light, Empire is a pretty simple cafe set-up with a balance between sit-in and takeaway custom.
I was eating on the go. My eye was caught but something called the buster roll which seemed to be their feature item on the unhealthier side of their breakfast list.
The buster featured sausage, bacon, haggis and tattie scone all on one soft roll. I was up for the challenge so ordered it. Filling items were prepared to order so I took a seat and waited for the friendly counter man to be about his task.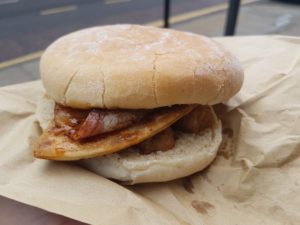 With item in hand I wandered on, eating the well-filled item at a nearby bus stop as I waited for the 41.
It was a large collection of fairly modest quality items. The sausages tasted notably fatty and poor quality. But the bacon was well crisped, the tattie scone suitably puffed and the haggis solidly good making it a decent, hearty eat which set me up for the day ahead.
So overall, the Empire Cafe did a good job in chasing away breakfast hunger. It's a welcoming little neighbourhood spot in the cheap and cheerful style. I'd be happy to return and would order the buster again when a substantial breakfast feed is needed.
Scores
Blythe scores Empire
3.5/5 for food
3.5/5 for presemt
3.5/5 for setting
3.5/5 for service
giving an overall 14/20
I ate: buster breakfast roll
I wore: dusty damson trousers
Total bill: £3
Address:
21d Strathearn Rd, Edinburgh EH9 2AB