Cub
London! Once more to the metropolis, this time with a little more space to breathe than has recently been the case.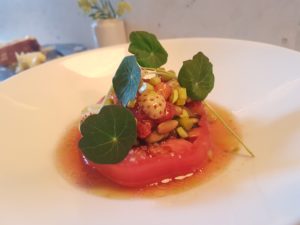 Arriving in mid-afternoon on a muggy Thursday, I had a few lazy hours to spend after a meandering train journey, so with a nap under my belt I headed to Hoxton for dinner at Mr Lyan's restaurant venture, Cub.
Before dining, I popped downstairs to Cub's sister cocktail bar Superlyan for a restorative beer. I suspected I might end up in here after dinner, too.
With thirst slaked, I popped back up to ground level and crossed the Cub threshold.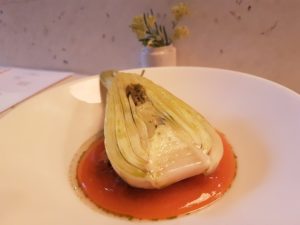 This was previously the site of White Lyan, which closed in 2017 for a revamp – splitting it into Cub and Superlyan –
with upstairs reimagined as a place for "good things to eat and drink", with local sourcing and sustainability at its heart.
I'd consciously steered clear of descriptions as I was keen to let things strike me freshly, as it were. I suspected I would be steered in a direction rather than having to make choices and I was delighted to find that this was indeed the case.
Their £55 set menu includes many food and drink courses. On the face of it, it looked potentially excellent value. That proved to be the case and then some.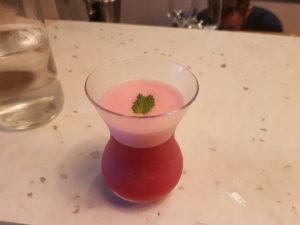 I was delighted to be seated at the bar. I was assured that mine was the best seat in the house for viewing the comings and goings as well as offering the best view of the kitchen at work.
Once the menu had been explained – to an extent – play was pressed and the carnival began.
But first it's worth pausing to reflect on how exepctionally good service was throughout. It was full of warmth, but also accuracy of complex information, radiating joyful commitment to the ethos of the place.
The set-up is a high-wire act. Two chefs – Gus and Josh – operate in a very constrained space in full view of the room. The sense of fun, calmness and again accuracy throughout was mind-blowing.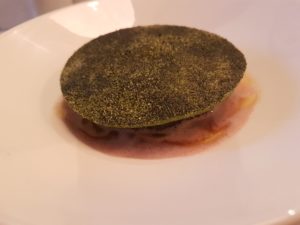 Bread and butter of excellent quality was served with a little sampler coupe of Krug – one of the drinks partners in the business – which had a citrus jelly which you were instructed to crush in your mouth as the final act of the aperitifing. It was glorious.
The next dish was a vesuvio tomato slice topped with white strawberries, toasted pine nuts, garlic tops and nasturtium leaves. Boy, was it good. Tomato salads are one of those tricky dishes to make memorable as they essentially seek to showcase the simple pleasure of good ingredients treated sensitively. This was a masterclass in that.
With this came a riff on a white wine spritzer with lovage and fig leaf in the mix. This was refreshing and delicately balanced.
Then came a botanical broth which introduced a recurring theme with some of the less loved parts of ingredients that played a central role in subsequent dishes – here fennel – used to advantage with an eye on minimising waste, particularly of flavour-packed elements. With sweet and citrus in the mix, this was hard to distinguish as a drink, a chilled gazpacho-style soup or even as distinctly savoury or sweet. What it was was delicious so its genre defying was of little consequence.
Next we had a fennel heart served on a "happy" egg yolk with toasted pumpkin seeds beneath. Again, this was cooking of the highest order and I had the pleasure of chef Gus talking me through the dish, which included some complex process to best showcase the silky yolk – was it 63°C cooking? – and a huge amount of care and attention to the balance of the dish.
This was paired with the one of the more pink and fluffy whisky drink you're likely to encounter. Showcasing a beremeal whisky from Bruichladdich, coupled with a buckwheat amazake and feathers – yes, feathers which apparently contain 3% of the overall protein content of a chicken, so can be used for fluffiness, perhaps? – for an excellent light and summery whisky cocktail.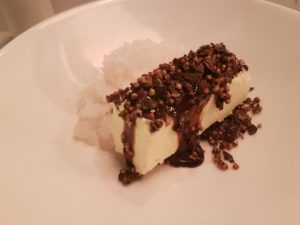 We then moved on to red rice koji topped with a disk of cucumelon sprinkled with seaweed powder. This was a deeply savoury delight and one of those comforting dishes of which I could have eaten about a hundredweight.
This came with a light pinot blanc accompaniment.
I added the optional cheese course which was possibly the outstanding dish in a parade of excellence.
Finely grated stilton – or more accurately stichelton, an unpasteurised version of the classic – topped sea buckthorn butter on crackers made from leftover sourdough mother.
I cannot state more strongly how much I dislike the aggressive astrigency of sea buckthorn, but this was beautifully tempered to add a really subtle but pleasing note to the stilton tang. I loved it with the zeal of a convert.
An excellently refreshing blend of tea and rooibos followed and was beautifully aromatic. This accompanied a dessert that matched chocolatey elements with a tart rose granita. Again, this was in the realms of not my cup of tea but so good I embraced its excellence.
A subtly balanced amaro rounded on the drinks, then a citrus oleo jelly came with the bill. Both were a splendid end to a sublime meal, comfortably the best I've eaten in 2018 so far.
So overall, Cub was an absolute revelation. It served me dishes of surprise, agility, elegance and not inconsiderable splendour. It's a place you should seek out at your earliest available opportunity. I'm confident you'll be as impressed as I was.
Scores
Blythe scores Cub
5/5 for food
4.5/5 for presentation
4.5/5 for setting
5/5 for service
giving an overall 19/20
I ate: all the good things
I drank: all the good things
I wore: pink and linen
Total bill: £94.50
Address: 153-155 Hoxton Street, London N1 3PJ