Cossachok
The plan had been for lunch in Glasgow to take place at a cafe called Once Upon a Tart, but sadly it looks to have recently closed down. But with spirits undimmed, I headed over the road to Cossachok, a Russian cafe restaurant that looked promising.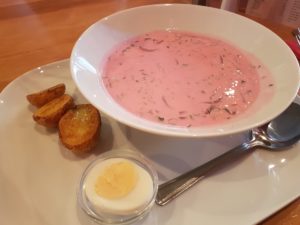 I was joined on this escapade by Jane who'd previously quested at the Butchershop.
We used to have the much missed Russian Passion in Edinburgh but since its closure the opportunities for Russian dining in Scotland have been few and far between.
Cossachok offers a very broad menu of dishes with a good balance of the familiar and the mysteriously intriguing.
I started with the cold borsht which was served with three roast potatoes and half a boiled egg. It was packed with creamy beetroot goodness, with lots of fresh aromatic notes of dill. I enjoyed it.
Jane opted for the Uzbek lamb plov. This got a positive reception for the lamb, the spiced rice and the accompanying Cossachok tomato sauce.
For my main, I opted for deep fried ravioli served in a richly creamy cheese sauce. This was hearty and comforting, and would have done very well as a hangover chaser.
Jane rounded things out with their cappuccino cake which was very bonnie and packed subtle coffee notes.
So overall, Cossachok served us a good, well-priced lunch that featured dishes we'd largely not tried before. I enjoyed everything I ate and would be keen to return for a further exploration of their menu. Give it a look when next you are in these parts.
Scores
Blythe scores Cossachok
4/5 for food
3.5/5 for presemt
4/5 for setting
4/5 for service
giving an overall 15.5/20
Today's questers were: Jane, Blythe
We ate: cold borsht, Uzbek lamb, crispy ravioli, capuccino cake
We drank: cola, water, coffee, tea
We wore: linens
Total bill: £25.90
Address: 10 King St, Glasgow G1 5QP