A Trip to Yorkshire
Our Beer Man reports…
North Yorkshire is a fine holiday destination and a part of the country I greatly enjoying visiting.
Whitby was our base again for a week-long family holiday – it's picture postcard pretty with a fascinating heritage but still manages to be lively and informal.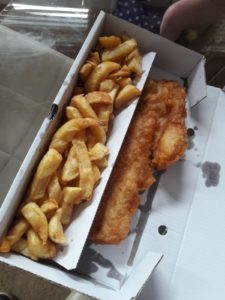 And that, of course, means sampling plenty of fish and chips.
The Magpie Café (14 Pier Road YO21 3PU) is considered the best chippie in Whitby, a view which was reinforced by the constant lengthy queues. So we braved a 15 minute wait and got four cod and chips to go. With a couple of soft drink cans, that came to around £25. After some seagull attacks – a major problem in Whitby – we finally found a quiet corner and tucked in.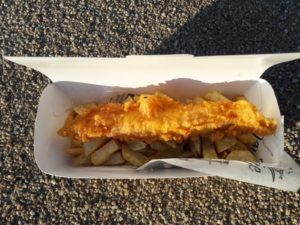 Eaten quickly with gusto in the sun by the sea, it hit the spot. However, afterwards we reflected that the batter was soggy underneath the fish – probably because the flesh was very damp – and we left many of the chips uneaten.
One local suggested Trenchers (New Quay Road YO21 1DH) was a better option, so I tried that the following day. I had the fish bites with chips for a modest £4.70. Four fat chunks of battered cod, these were delicious – perfectly cooked pearly fish in a crisp shell. The chips were spot on too, with a neat little divider in the take-away box keeping them separate from the main event.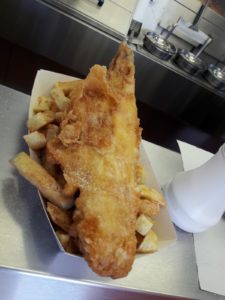 We returned as a family later on in the week, for two cod and two fish bites with chips. With soft drinks and a tub of deliciously basic yellow curry sauce, this was around £25 – and we all agreed it was far more satisfying than the seemingly more popular Magpie.
In Scarborough, we tried Bamford's Café (27 Sandside YO11 1PE). The fish and chips here are no-frills but perfectly executed. The family have their food with "bits" – which we usually call scraps, those crumbs and fragments of batter – and it gets a big thumbs-up.
Tiring slightly of fish and chips, we opted for Emma's Diner in Whitby (36-37 Flowergate YO21 3BB). An American-style 50s eatery with booths and rock 'n' roll belting out of the jukebox, it serves exactly the kind of food you'd expect: burgers, hot dogs and the like. I opt for the chilli cheese fries with a side of popcorn chicken, and my family go for the hot dog, burger and chicken nuggets. The portions are huge and we demolish it all. It's not handmade – I suspect almost everything was from the freezer – but it's fine: fun and family-friendly. With some imported US cream sodas, the bill is £42.75.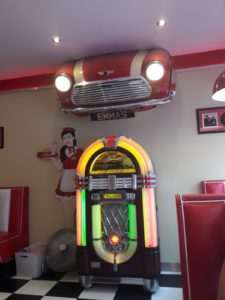 I found plenty of places in both towns to drink – but not many places I would recommend actively seek out.
I liked the Green Dragon (4-5 Grape Lane YO22 4BA), which is a micro-pub attached to a great little bottle shop. The staff were friendly and helpful, and the beer selection – four keg lines and a range of great bottles – good. I had some excellent cask beer at the Little Angel (18 Flowergate YO21 3BA) and liked the Waiting Room micro-pub in the station although the cask-only selection was pretty tame, albeit it was supplemented by a couple of classic Belgian bottles.
In Scarborough, the only show in town is North Riding (161-163 North Marine Road YO12 7HU). Their own beers are alongside the best on keg and cask. It's a no-nonsense operation boasting bags of atmosphere and great service. I enjoy every visit.
Both towns also have Sam Smith's pubs, serving decent beer at ridiculously cheap prices.