Pomodoro
After discovering Pomodoro – I dare say it has existed for some time, but I'd not spotted it before – on a recent breakfast visit to Derrick's, I took note to visit soon. I made good on that a matter of days later.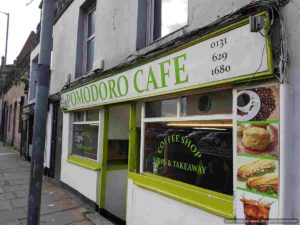 A bright and airy space, particularly by the standards of other cafes in the greasy spoon style, the place felt welcoming and was quite liberally populated with breakfasting folks.
Service is at the counter so I headed straight there with a black pudding roll in mind. The friendly counter woman took my order and passed it on for the kitchen to commence preparing things.
Cooked to order, it was soon with me so with cash and pleasantries exchanged I was on my way. I commenced chewing in the crisp air of a Leith morning.
The fresh morning roll contained two chunky slices of decent quality black pudding. No heather conflagration occurred but it was a very pleasant eat.
So overall, I enjoyed Pomodoro and would be happy to visit again. Next time I'll give their bacon a test to see how it matches up against Derrick's. Stop by next time you're in these parts.
Scores
Blythe scores Pomodoro
3.5/5 for food
3/5 for presentation
3.5/5 for setting
3.5/5 for service
giving an overall 13.5/20
I ate: black pudding roll
I wore: mainly blue
Total bill: £1.50
Address: 8 Portland Street, Edinburgh EH6 6LA