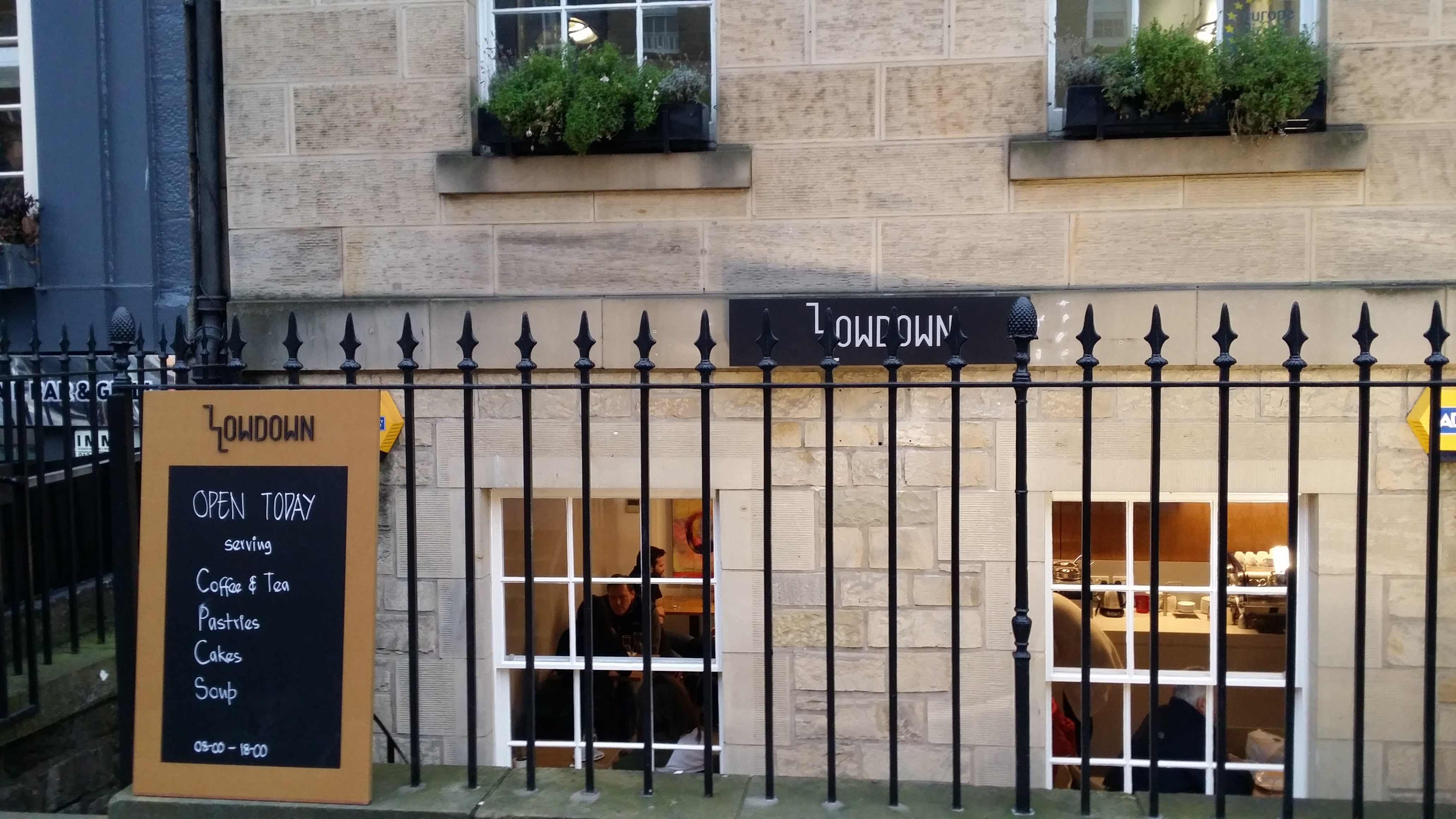 Lowdown
I'd been looking forward to the opening of Lowdown ever since I ran into former
Razzo
owner Paul and he let me know he'd secured new premises. He kept the exact location quiet until fairly recently, so when I discovered it was to be on George Street right on my regular route between home and work I was delighted.
Having popped in for a sneaky peek the previous week, I visited on their first full day of trading, last Saturday. Unsurprisingly, there were a number of familiar faces checking things out.
I'd just missed Elaine from
Union of Genius
, who are providing their soup, but had timed it right to say hi to Matt from
Fortitude
, Euan from
Lucky Liquor
, and Sara from
Suki Bakes
, of whom more later.
As the name and logo suggests, Lowdown is down a few stairs in basement premises. It's a very smartly appointed space with clean lines and a modern, Nordic feel to it.
This is echoed in their choice of coffee with spectacular Swedish Koppi on the brew bar. There's involvement from the roasters' home cafe, along with a couple of folks working in the cafe that are part of a European network of coffee enthusiasts. It feels like profitable alliances are being established from the outset.
After it initially looked like I might need to have the coffee to go as the place was completely full, a table became free so I could sit-in and relax. I ordered espresso (£2.20), initially, then followed with a slice of parsnip cake once I'd been given a word to the wise.
Poured much longer than you'd more conventionally see espresso served, this was coffee of outstanding brightness and balance. It was highly impressive to see things delivered to such a high standard from the get-go, but that's the kind of precision I've come to expect from Paul.
As regular readers will recall, I'm not much of a cake fan, but talk of parsnip cake had me intrigued. A massive slice arrived (£3.75) looking much like carrot cake but with that distinctive parsnip sweetness. It was absolutely outstanding and I will be instructing my Cakequest chum to give it a full inspection, soon.
So overall, Lowdown looks like it has the potential to be a real game-changer for Edinburgh coffee, taking things in a number of fresh and innovative directions. I'll be back in due course to give their food offering full consideration, but for now I'd urge you to visit soon and visit often as this is a place with which you'll be mightily impressed.
Address: 40 George St, Edinburgh, EH2 2LE